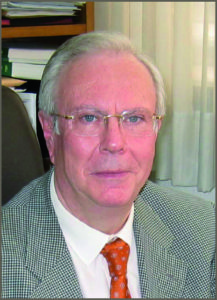 Prof. Emilio Galán Huertos, world renowned clay mineralogist, was born in Málaga (Spain) on February 4, 1942 and was a man of exceptional talent. After successfully completing his secondary studies, in 1966 he received his undergraduate degree in Geology from the University of Granada. In 1972 he received his PhD in Geology from the Complutense University of Madrid under the supervision of his professor, Dr. Juan Luis Martín Vivaldi. After the premature death of his professor in 1974, he continued with his international activities as member of the International Executive Committee at the "Working Group for the kaolin correlation program, genesis and age" from the International Geological Correlation Program (PICG, UNESCO 1974-1980). From 1972 to 1976 he was part of the Spanish Research Council, CSIC, and since 1968 he was professor of Crystallography and Mineralogy at the universities of Madrid, Badajoz, Zaragoza, and finally full professor at University of Seville. He was officially retired at age 73, but he continued collaborating with his research group until his last days.
Prof. Galán had a great capacity to detect at all times the areas of scientific interest for the society, initiating and consolidating new lines of research such as "Minerals of gemological interest in Spain", "Rocks and Industrial minerals", "Historical Heritage Studies", "Soil pollution", "Atmospheric pollution caused by ceramic industries", "CO2 capture and storage", etc., without counting his great affinity for the Geology and Technology of Clay Minerals. He was recognized as a world specialist on sepiolite, palygorskite and kaolinite. He was author/coauthor of more than 330 papers, 16 books and 61 book chapters. He imparted some 80 plenary lectures and attended more than 120 congresses, mostly international. He collaborated in the realization of two maps/memories and in three patents on kaolin treatments and on CO2 capture. He directed 22 PhDs, 11 Bachelor/Master thesis and 2 final graduated thesis.
He served as a consultant for clay and ceramic industries, and for monument conservation programs. He participated on reviews of Spanish, Italian and EU projects on natural resources, materials, and environment. He was Associate Editor of Clay Minerals and Applied Clay Science and member of the editorial board of Applied Clay Science, Geological Carphatica-series Clays, Estudios Geológicos, Boletín de la Sociedad Española de Mineralogía, Peridico di Mineralogia, GeoActa.
Emilio participated a great number of activities as member of scientific societies: Spanish Clay Society (Vice President 1979-1981, President 1984-1991), International Association for the Study of Clays, AIPEA (member of the Council 1985-1993, member of the Nomenclature Committee 1989-2019, Vice President 2001-2005), President of the European Clay Groups Association, ECGA (1995-1999), Spanish representative at the International Mineralogical Association, IMA (1982-2007), Spanish Society of Mineralogy (founding partner, President 2002-2006).
He participated on the organization of numerous international and national meetings of these societies as Chairman or member of the organizing committee, emphasizing the EUROCLAY'87 that is still remembered as an extraordinary event by those of us who had the privilege of participating. Emilio Galán enthusiastically defended at AIPEA Council the candidature of Granada for the organization of International Clay Conference (ICC 2017).
As Honorary Nominations, Prof. Galán has the Medal of the University of Pavia for scientific merits (1973), Tecniterrae Research Award (1977), Elected Member of Science Academy of Seville (1993), Honour Member of the Czech and Slovak Clay Groups (1994), the Gruppo Italiano dell'AIPEA (1996), the Spanish Clay Society (1999) and the Spanish Mineralogical Society (2016), Pioneer in Clay Science and Technology by the Clay Minerals Society (2008), and AIPEA Medal (2017).
This, in summary, was the luminous career of Emilio Galán, a man of extraordinary knowledge and noble human qualities, with a wide range of interest that brought him into contact with many people from many countries around the world. He left a great mark on all his disciples and contributed consolidating clay research in Spain.