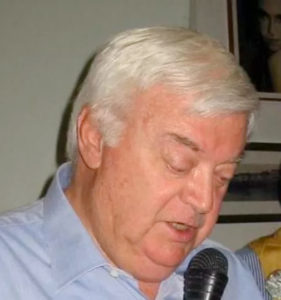 Prof. Fernando Veniale was born in Pavia (1929), a town renowned for its ancient Alma Ticinensis Universitas where he studied in a uniquely stimulating environment. After graduating in 1954 with a thesis on volcanic rocks from Val Sesia (northern Italy) – for which he was awarded the National Prize "Roma" – he continued investigating granitic rocks occurring in the same region and extending to the Lake Maggiore, focusing in detail on electron microprobe analysis of accessory zircon and its petrogenetic significance. For the results obtained, he was awarded (1963) with the Prize "U. Panichi" by the Società Italiana di Mineralogia e Petrologia.
Later (1968-1970) he determined the lithotypes in the area Albenga-Savona (Liguria region). During fieldwork, he realized the importance of investigating the rock weathering products and processes, also with the purpose of analyzing stones used as construction materials of ancient buildings and monuments. He analyzed stones, bricks, "terrecotte" and mortars in ancient churches (also the renowned Certosa), university palaces, monuments, and Roman-medieval-"Spanish" townwalls of Pavia, providing support for their restoration. Furthermore, he studied the bricks and mortars of the medieval Civic Tower (collapsed in 1989) for understanding the causes of their decay. Other investigations concerned ancient ceramic artefacts from northern Italy. Profe. Veniale was chairman of workshops organized in 1980 and 1985 by UNESCO's International Committee for Monuments and Sites. From 1990 on, he was a member of the International Committee for the safeguard of the "leaning" tower of Pisa. He mapped the construction stones and mortars, their degradation products and processes, contributed to development and use of a suitable software (Akira-Gis-Server), and assisted the restoration works completed in 2011. He analyzed also the subsoil of the tower for obtaining suitable in-formation for the "controlled subsidence" intervention applied for reducing the tower tilting and consequently improving its stability. Primaziale Pisana, the organization managing the tower life, along with the Pisa Civic Administration, awarded him with a Gold Medal in 2011 when the tower was reopen to visitors. Earlier in his career (1961-1965), Dr. Veniale undertook investigations specializing in clay mineral characterization, use and genesis, with collaborations and visits to prominent research centres in Netherlands, France, Sweden, Scotland and Spain, working on a range of clay occurrences using advanced methods and instrumentation. He was very active in promoting collaboration among various research centres all over the world and he visited many of them, including sites in Europe, USA, Brazil, Australia, China and South Africa. Italian colleagues called him the "globe-trotter of clays".
The results of his research (about 200 publications and reports) cover many topics, including some very notable accomplishments. He discovered two new clay mineral species: "aliettite", a talc saponite mixed-layer, and "hydro-chrysotile", both as alteration products of serpentinitic rocks. He documented transformation mechanisms of lamellar-to-lath shaped illite/smectite, and discovered sepiolite in sediments belonging to the "evaporitic" formation of the Apennines as a marker of such environment. He also studied the relationship between particle shape and "crystallinity" of kaolin-group minerals, and determined by electron microscopy that the different stacking of hydrated-SiO2 microspherules is the reason for the exterior opalescent aspect. Additional contributions to the research community include studying the clay mineral distribution in bottom sediments of the Adriatic Sea and along other Italian coasts (in collaboration with Scripps Institution of Oceanography, La Jolla, California), in the Ross Bay (the Italian base in Antartica), and in the Strait of Magellan. The "Project Esope" for the recognition of suitable sites for nuclear wastes depository required drilling in bottom sediments of Atlantic Ocean at a deep of up to 6000 meters; Prof. Veniale analyzed column samples concerning clay mineral distribution.
He was head of the workgroup that realized the Catalogue of Clays in Italy. A peculiar branch was devoted to "varicoloured" clays along the Apennines, where dickite was found as peculiar constituent. Other studies devoted to use and application of clays include: formulation of new clay-organic complexed to be used as a stationary phase in gas-chromatography for distinguishing polymers (in collaboration with ENI – Ente Nazionale Idrocarburi); interactions mechanisms of clay minerals with toxic heavy metals and organic pollutants; impermeabilization by clay barrier of repository sites for urban and industrial wastes; use of domestic wastes as manure in agriculture; stabilization of landslide bodies by a devised electro-osmotic treatment using aluminium anode or KCl diffusions; and last but not least, the investigations of clays for "thermal muds" used in spa-centres for recovering from skin, muscle and bone diseases (pelotherapy) and for cosmetic, wellness and relaxation treatments. His research provided evidence for the peculiarity of using-sulphurous bromine-iodine salty water for dermatologic or muscle-bone diseases, respectively. In his last publications (2008), he pointed out the necessity to certify the composition of clays and mineral waters used, and the "maturation" procedure for the preparation of muds when applied to different pathologies.
He attended all AIPEA and European Clay Conferences and many national workshops until his retirement, acting as chair-man of various scientific sessions. He was co-chairman with G.W. Brindley (USA National Science Foundation) of a symposium on "Clays for Ceramic Products" held in Milan (Italy, 1973) with the participation of prominent clay scientists, vis-iting also the ceramic district of Sassuolo and the Museum of Ceramics in Faenza. A volume on ceramic clays in Italy was published, and he was awarded with the eminent Golden "Ambrogino" by the mayor of Milan. In 1981, he was charged as Organizing Chairman of AIPEA 7th International Clay Conference (ICC) held in Bologna and Pavia (Italy). On that occasion, the Alma Ticinensis Universitas of Pavia conferred the "laurea honoris causa" to Prof. Georges Millot (Strasbourg) "for his basilar studies on clay geology". Prof Veniale was sponsor and 1st elected president of the Italian Group of AIPEA (1970-1975), as well as of the European Clay Groups Association (1987), and he served AIPEA as vice-president (1975-1978). He was on the editorial board of journals as Clay Minerals, Applied Clay Minerals, Ceramurgia and Materials de Construccion, served as fellow of several scientific organizations including the honorary memberships of Sociedad Española de Arcillas (1987), Groupe Français des Argiles and the Czechoslovak Clay Group. His career attracted many other honours and distinctions. Be-side those already mentioned, at his retirement, the University of Pavia conferred him the Gold Medal "Teresiana" (a distinction set up by empress Marie Teresien of Austria in the XVIII century) in recognition of his academic achievements. He also received the Karlovy Medal by the University of Prague (1983) and the Ulrich Hofmann Prize of the ECGA (2003) "in recognition of outstanding contributions in the field of applied clay science".
In 1965, he was appointed "libero docente" and in 1975 full professor of Sedimentary Petrography. He was an excellent and inspiring teacher, training and encouraging the students, and supervising doctoral theses at the universities of Orleans, Granada and Barcelona. He was a milestone along the clay road during past fifty years. At retirement, he had more time for his hobbies, including painting and writing verses in the dialect of his town Pavia, winning prizes in 1995 and 1998. Colleagues and friends recognize and appreciate his enthusiasm of life and zest of friendship, sense of humour, generosity in sharing ideas and initiatives, and his inspiration for students. His close colleagues and associates miss him deeply and send sympathies to his family and friends.